I love daily deal sites as I am sure many of you do!  I found a new brand new one on Facebook that is going to launch in June!  How exciting!  If you "like" them on Facebook, then you get 3  FREE chore chart printables!
The new site is called
and their logo is "great deals at your fingertips…they'll be gone in a SNAP!"
Here is the link to their Facebook page.
I think next week I am going to have to come up with a cute little craft to hang these from!
I am always looking for a good chore/reward system . . . and oddly my older kids are always begging me for one!
FingerSnapper has three different chore charts that they email you when you follow them on Facebook…so there will be one that will work for you!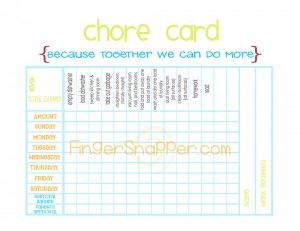 Don't forget to check out this post for all of our new craft projects
You will find things for Mother's Day
 and even some fun and cute
and one of our newest favorites,
these cute Alphabet blocks!